Indian agri-business start-up secures more funds to support its predictive analysis-driven fresh produce distribution operation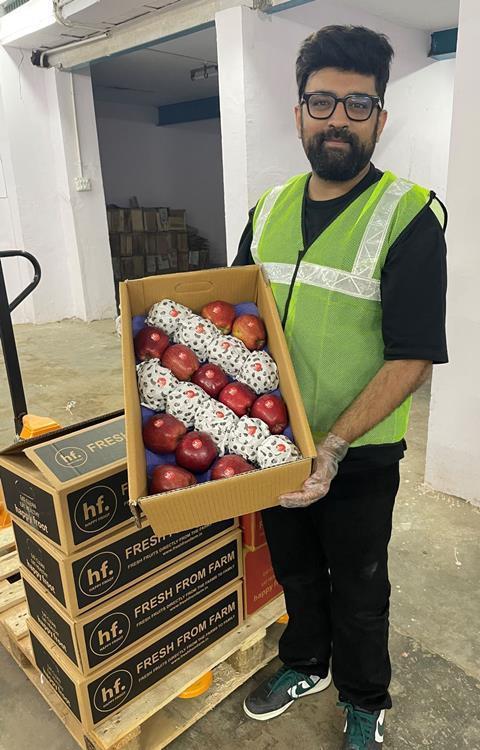 Fresh From Farm has raised over Rs32m (US$392,000) in Seed Round led by Inflection Point Ventures.
The Indian agri-business start-up is a demand- and data-based aggregation ecosystem that recognises retailer demand trends and buys the precise amount from farmers.
Growing and acquiring fresh produce, Fresh From Farm distributes it through an omnichannel online and physical presence while establishing a clear brand strategy.
The funds raised will assist the company in team building, inventory management, capital expenditure, research and development and branding.
Founder, Rohit Nagdewani is an urban farmer who launched his hydroponic farming enterprise in 2018. Fresh From Farm sells its products under its private label "Happy Froot" and aims to alter the dynamics of fruit and vegetable production through a targeted, data-driven predictive analysis, resulting in less food waste and better nutrition for all.
To reduce waste at the retailer level, the company assesses demand and supply patterns and works towards matching them. The company already has a 6,000ft² collection and distribution hub in the heart of South Delhi, that helps it service the entire Delhi/NCR region.
"Our AI-based system currently has a confidence rate of 89 per cent allowing us to predict the exact quantities and qualities of fruits that can be sold at particular touchpoints. This has enabled us to reduce the wastage to 2-3 per cent while the industry standard is 20-22 per cent. We aim to achieve a 95 per cent accuracy rate over the next 18 months," said Nagdewani.
Vinay Bansal, founder and chief executive of Inflection Point Ventures said it was Fresh From Farm's tech and the platform with predictive qualities that prompted investment.
"The customers are increasingly getting aware about what they eat, where is it sourced from and its nutritional value. The farmers and retailers on the other hand deal with the supply chain challenges resulting in million of tonnes of perishables getting wasted every year," said Bansal.
"We liked Fresh From Farm's approach of leveraging tech to solve the challenges that directly impacts the three key stakeholders of the fruit and vegetables ecosystem. Their tech and the platform with predictive qualities prompted us to invest in the company."