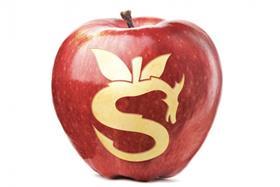 Fruit Australia has secured the exclusive Australian rights to three US-bred apple varieties.
The newly-formed company – a collaboration between N&A Group, 9 Mile Fresh (9mile) and Adelaide Hills Fresh – will control the production and marketing of the NY1, NY2 and WA2varieties in Australia.
NY1 (marketed as SnapDragon) and NY2 (marketed as Ruby Frost) are both from the Cornell University apple breeding programme. WA2 (branded as Sunrise Magic) is from the Washington State University breeding programme.
"The signing of the three exciting new varieties will give further opportunity to growers, retailers and consumers by drawing on the group's experience of commercialising new products," said James Walters, director of Adelaide Hills Fresh.
"These varieties have been selected for their varying flavour profiles with consistently good performance by consumer panels. Other parameters that were high on our agenda were fruit shelf life and grower friendliness."
Fruit Australia's goal is to become the marketing leader for new fruit varieties across Australia. The business has been set up to provide national coverage, specialising in the production, marketing and management of club varieties, with a particular focus on pipfruit.
"Fruit Australia is conceived to bring the best the world has to offer to the broadest base of producers as possible," explained James Ryan, director of 9mile. "We have amazing scope to represent plant breeders from around the world to an extremely enthusiastic and networked grower base."
Read more about Fruit Australia in the upcoming Summer edition of Produce Plus.