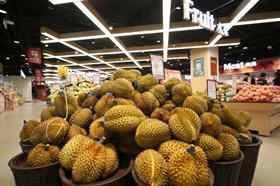 China's trade with the Association of Southeast Asian Nations (ASEAN) has reached Rmb2.51 trillion (US$362bn) in the first seven months of 2020 and fresh fruit exporters have benefited from the increase in trade.
According to a report from Xinhua, the total at the end of July 2020 represents a 6.6 per cent year-on-year growth.
Vietnam consolidated its spot at China's largest trade partner among ASEAN members with 18.1 per cent growth, data from China's General Administration of Customs showed.
Vietnam and China had worked to reduce the effect the Covid-19 pandemic had on trade. The result was welcomed by fruit growers such as Nguyen Huy Phong, a grower form Vietnam's southern Binh Thuan province, who was encouraged the interest from the Chinese market.
'I want more Chinese traders to come here to buy and export our fresh, sweet and succulent dragon fruits,' Nguyen told Xinhua.
China's interest in ASEAN fruit has not been dampened by Covid-19, John Tan, president of Philippine exporter Eng Seng Food Products, told Xinhua Covid-19 restrictions had made meeting that demand challenging.
'I'm not short of orders, but I'm short of hands,' said Tan. 'Even under these circumstances, we are still managing to send about five to six containers of young coconuts to China every week."
Durian continues to be a source of growth for ASEAN countries exporting to China. According to Thailand's commerce ministry, over US$1bn worth of durian had been sold to China in the first half of 2020, a 140 per cent year-on-year.
Thailand's Department of International Trade Promotion has been actively promoting durian in China this year, even pairing with Chinese e-commerce platforms to reach consumers during the pandemic.
Malaysia is another country eyeing China's appetite for durian, in June 2019 it gained access to China for frozen whole durian and hopes to gain access for fresh durian as China's initial response has already been positive.
Lu Yee Thing, a durian farm owner in Malaysia's central Pahang state, told Xinhua that durian shipments to China have increased to 50 per cent of the farm's total exports.
'Many Chinese consumers order our durians directly online,' Thing said. 'I'm very confident in future business, and I will expand planting areas to meet the demand of the Chinese market.'