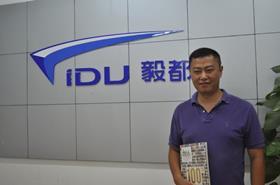 Demand for imported fruit is rising in China, thanks to high inflation, a favourable US dollar/yuan exchange rate and growing prosperity among the nation's upper and middle classes.
Jiangnan market in Guangzhou, China's largest fresh fruit wholesale market and a key import hub, has seen certain imported fruit volumes increase by as much as 50 per cent so far this year compared to last.
The wholesale market, located close to Hong Kong, typically handles over 40,000 containers annually. Importers there expect higher volumes this year, and imports of some lines to double by 2012.
Owen Ou, marketing manager at importer Dalian Yidu Group, said Chilean cherries and grapes, in particular, had shown significant volume growth so far this year.
"In 2010, over 3m cartons of Chilean cherries were imported into the Jiangnan market. This year this increased by more than 50 per cent to 5m cartons, and it is expected that 2012 will reach the 7m mark," he told Fruitnet.com.
Exporters in Chile are keen on exporting to China, where they can usually achieve very high returns.
Chilean cherry exports typically coincide with the run-up to Chinese New Year, which gives a great boost to sales.
Cherries from the US are also on the up. Compared to 1m cartons in 2010, importers expect sales to total to 1.5m cartons in 2011.
First-of-the-season cartons arrived by air in mid-May, and even though the fruit was soft and had a relatively short shelf life, it has been selling for RMB 450-550per box on average – a good price according to Mr Ou.
He is however looking forward to the arrival of the first Washington cherries by sea, which normally bring better prices.
US cherry volumes have increased significantly at the market, from 40 containers per year in 2008, to 40 containers per importer in 2011.
May and June are also good months for grapes from Peru, according to Mr Ou.
"Before, grapes from Chile were very popular and brought back the best prices, nowadays Peru grapes have improved quality, sweeter taste and lighter colour. Volumes double each year and the price is sometimes even higher than Chilean grapes," he told Fruitnet.com.
Where there used to be one importer bringing in Peru grapes three years ago, there are now three importers focusing on the Red Dragon brand, the most popular Peruvian grape brand.
As far as South African grapes are concerned, Mr Ou feels that it has been a good season for the seedless varieties; especially Crimson. Red seeded varieties haven't sold well because of competing grapes from Peru at lower prices.
Australian grapes couldn't compete against South African fruit this year, as the country experienced bad weather so volumes were down and there were quality issues.
With the start of the citrus season in South Africa, the focus at Jiangnan market will be on grapefruits, oranges and mandarin, mainly the Nova variety.
Nova, a tight-skinned mandarin, is growing in popularity in China, and with similar volumes, prices are expected to be high this year.
It seems there is no end in sight for the growing sales figures in the fresh fruit industry in China. Importers are confident that their businesses will keep developing and they will have access to enough fruit to supply growing demand.
Mr Ou states several reasons for the overall growth of the market, the main cause being inflation. The inflation rate of 5.3 per cent in 2011 makes local fruit expensive and with that, imported fruits relatively cheap.
He adds that "there are simply more rich people in China", the middle class is growing and that results in a large population being able to afford imported fruit.
Lastly, the exchange rate has been favourable for importing thanks to the weak US dollar.