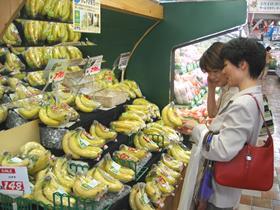 Japan imported 184,020 tonnes of fresh fruit over the month of July, a 12 per cent increase on the 164,764 tonnes imported over the same month in 2020, according to figures released by the country's Ministry of Finance.
Bananaimports suged to 105,220 tonnes, up from 97,306 tonnes in July 2020. The Philippines supplied over 75 per cent (80,374tonnes) of this total, with Ecuador (12,705 tonnes) and Mexico (6,743 tonnes) making up smaller portions of the supply mix.
Kiwifruitimports for the month of July came in at 17,366 tonnes, up 110 per cent on the 8,308 tonnes imported in July 2020. Kiwifruit imports for the three months to 31 July (2021) came in at 70,019 tonnes, down on the 72,760 tonnes imported over the corresponding period of 2020.
Lemonimports were up 27 per cent compared to July 2020 at 7,187 tonnes. Chile (5,253 tonnes), South Africa (976 tonnes) and New Zealand (777 tonnes) made up the bulk of this trade.
Orangeimports came in at 5,887 tonnes, down 51 per cent compared to July of 2020. Australia accounted for the lion's share of this trade, supplying 5,096 tonnes. However, this figure was down considerably on the 11,150 tonnes of Australian oranges shipped to Japan in July 2020.
Pineappleimports were up 25 per cent compared to July 2020 at 18,464 tonnes.