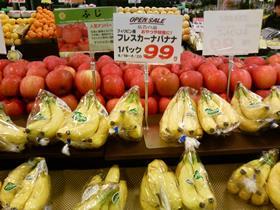 The coronavirus (Covid-19) pandemic hasn't diminished demand for fresh fruit imports in Japan.
Figures released by the country's Ministry of Finance show fruit imports topped 1.73m tonnes over the 2020 calendar year (12 months to 31 December 2020), up 2 per cent comparedto 1.70m tonnes in 2019. The 2020 volume was the largest in the past eight years.
Over 1m tonnes of bananas were shipped to Japan in 2020, accounting for 61.6 per cent of all fresh fruit imports.
While the Philippines remains Japan's largest source of bananas, it lost market share to a number of Central American suppliers in 2020. The Philippines' total of 804,169 tonnes gave it a 75.3 per cent slice of the market, down from 80 per cent in 2019.
Ecuador increased its market share to 12.8 per cent in 2020, up from 11.4 per cent in 2019, on the back of shipments totalling 136,190 tonnes.
Banana shipments from Mexico came in at 79,525 tonnes, up from 54,284 tonnes in 2019, giving it a market share of 7.4 per cent.
Pineapples (153,242 tonnes) were Japan's second largest fresh fruit import by volume in 2020, accounting for 9 per cent of total shipments.
Kiwifruit shipments made up 6.5 per cent (106,500 tonnes) of the import trade, with 93.8 per cent of this volume imported from New Zealand.
Oranges 5.4 per cent (92,900 tonnes) and avocados 4.6 per cent (79,560 tonnes) rounded out the top five categories by import volume in 2020.
Read a full report on the Japan market in the February edition of Asiafruit.