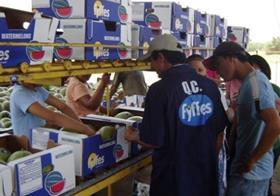 Irish tropical fruit company Fyffes has invested US$30m in expanding its US melon import business and acquired additional banana farms in Costa Rica for US$15m.
The US$30m investment includes an additional 2,500ha of leased land, 100ha of owned land, four packhouses and additional equipment in Central America for US$18.3m, increasing Fyffes' melon capacity by 25 per cent ahead of the 2015/16 US import season, due to kick off in November.
The increasing import volumes will see a further US$10-12m invested before the end of 2015.
Fyffes acquired the US$15m Costa Rican banana farm after leasing the land since early 2014, which the group has said demonstrates Fyffes' capabilities for large-scale farming across its three core product lines of bananas, melons and pineapples.
"Fyffes continues to be strongly cash generative and, following this series of earnings enhancing developments, it anticipates that year end net debt will not exceed one times target adjusted EBITDA for the year," the company said in a press released. "Fyffes remains confident about the future prospects of its business and is well placed to compete strongly in its key markets, following these and other important strategic and operational developments in recent years."