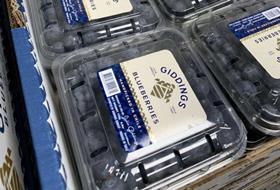 Having landed its first consignment of new season Chilean blueberries in China, Giddings Fruit has underlined its plans to grow market share in the Asian nation.
The initial shipment arrived in Shanghai yesterday (31 August). The fruit was grown at Giddings' orchards in the northern part of Chile and airfreighted to China.
"We are very enthusiastic about this fruit because the weather has been wonderful, allowing the fruit to develop at its best," said Gonzalo Matamala, Giddings Fruit's Asia and China general manager. "The fruit is sweet, crunchy and has excellent bloom, particularly for this Australian-bred variety.
"The Chinese market has been an important destination for our company, so soon after we receive the formal authorization allowing exports [from Chile], we shipped this fruit to our clients in Shanghai."
Matamala said Giddings would complement its airfreight programmes with sea shipments to China as the Chilean season progresses. It will also ship fruit from Peru, meaning the company's label will be present in the market for a longer period of time.
"In terms of volumes, to China and Asia our plans are to move around 850,000kg (850 tonnes) of blueberries from both of our operations in Chile and Peru," Matamala explained. "Our volumes are growing steadily over time, but our main focus is proving quality fruits to our clients."
Beyond China, Giddings has begun supplying customers in Korea, Japan, Singapore and Thailand with new season blueberries from Peru and Chile.
"All those markets currently have North America as a supplier but those volumes are reducing by the day, since the US season in expected to finish earlier this season," Giddings explained. "This situation has allowed us to penetrate the markets with excellent prices and strong demand."
A full interview with Gonzalo Matamala will appear in Asiafruit October.