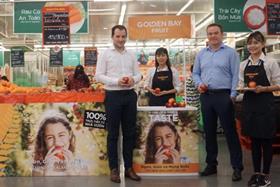 Golden Bay Fruit has opened a new office in Ho Chi Minh City.
It is the New Zealand-based company's fourth offshore office, joining existing operations in the UK, Shanghai and Singapore.
Patrick Meikle, global commercial manager of Golden Bay Fruit, said the move illustrates Golden Bay Fruit's commitment to the region, along with its plan to build sustainable and long-term market share in Vietnam.
"Vietnam is already responsible for a significant proportion of Golden Bay Fruit's total global apple sales achieving excellent growth over the last several years. This market is a core part of our future growth," explained Meikle.
Golden Bay Fruit has established a foothold for a number of its exclusive IP apple varieties in Vietnam, such as Ruby Star and Cherish.
The company also has high hopes for its newest apple offering, Sassy, which performed well in initial focus group testing in Hanoi and Ho Chi Minh City, according to Eleni Hogg, marketing director of Golden Bay Fruit.
"We're really looking forward to building a closer relationship with our Vietnamese partners and a deeper understanding of the market," Hogg said. "Having a local office will help us to create and manage more targeted localised campaigns and marketing strategies especially as our suite of IP varieties grows."
The Vietnam office will be headed by recently appointed country manager Diep Tran, who has strong experience in food and FMCG distribution and sales in the Vietnam market.
"Closer proximity will provide a better service for our important Vietnamese customer, especially with the travel restrictions of the last couple of years," said Meikle. "Having staff on the ground means we can offer closer support to our customers, respond in real time to any disruptions and seize new opportunities as they come up."