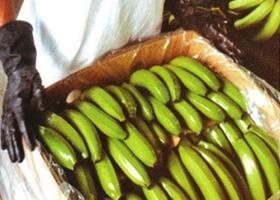 The Philippine government has told its besieged banana industry to look for new markets as China clamps down in imports of the fruit.
The two countries are locked in a dispute over the ownership of a shoal in the South China Sea, which many in banana trade say is the reason for China's increased inspections.
Officials from both countries dispute this, however, with China claiming fruit from the Philippines is infested with pests and bacteria.
China is currently the Philippines' second-largest market for bananas after Japan.
Philippine economic planning secretary Arsenio Balisacan has played down the economic impact of tightened inspections despite a report on Monday (14 May) by the Manila Standard that US$16m of fruit had already spoiled in Chinese ports as a result.
'As of now, we are likely to see modest effects (on the economy), but we need to intensify our efforts to diversify our trade with other countries,' Balisacan said.'So whether or not this event with China occurred, we should have been diversifying our exports.'
According to a report by Business World, Philippine president Benigno SC Aquino III has instructed the country's agricultural secretary Proceso J Alcala to explore new markets for the country's bananas.
And in another blow to the country's horticultural sector, China now says it has found mealy bugs in papaya imports from the Philippines.
The Business Inquirer reported Bureau of Plant director Clarito Baron received a letter from Chinese officials on 2 May stating 43 crates of papaya and pineapples had been impounded in Shanghai after they were found to be harbouring mealy bug.
Clarito refuted the claim stating similar consignments had been sent to Japan and South Korea without incidence.
He added the bug was not considered a harmful pest.'They are considered cosmopolitan insects. They are found everywhere, even China. They are not a pest of quarantine importance,' he said.