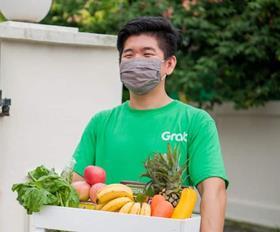 Grab has expanded its grocery delivery service across South-East Asia, adding major supermarket and convenience store chains onto GrabMart,
New partners joining GrabMart includeIndomaret in Indonesia, with over 15,000 stores;Big C in Thailand, with over 1,000 outlets;Lotus's Malaysia (formerly known as Tesco Malaysia)with over 62 locations;S&R supermarket in the Philippines andMega Market in Vietnam.
Demi Yu, Grab's regional head of deliveries said the company's "superapp" gave consumers a convenient way to try grocery delivery.
"85 per cent of our GrabMart users in Q2 2021 came from GrabFood. This goes to show that our superapp offering is particularly attractive to South-East Asia's mobile-first consumers who value the ease of accessing multiple everyday services, from on-demand mobility to food delivery and grocery shopping, in one app," said Yu.
"We are excited to welcome some of the largest grocery retailers in South-East Asia onto our platform. Together, we can ride on the rising instant delivery trend and provide consumers greater variety and convenience through GrabMart."
Grab has also revealed its plans to trial Shopper, a shopping assistant solution, in selected supermarkets this year. Shopper is a digital shopping list that enables retail staff to pick and pack consumers' grocery orders as they move through shopping aisles. Retail staff can notify consumers in real-time if items are sold out, suggest potential replacement options, and send photos of the items through the in-app GrabChat feature.
"As online grocery shopping gains popularity, we are seeing consumers placing larger grocery orders on GrabMart. Our new shopping assistant solution will meaningfully improve the experience for both our retail partners and consumers. This is one of the many enhancements we are working on to support this rapidly-growing business," added Yu.