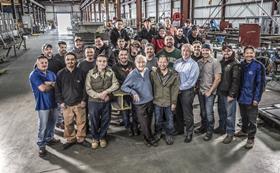 Founded in 1950, Heat and Control will celebrate its 70th anniversary on 27 June, beginning 12 months of commemoration.
The US-headquartered company has spent seven decades modernising solutions and developing advancements across multiple industries including the fresh produce industry; it now has almost 1600 employees worldwide in more than 30 offices.
A family managed business, father/son due Andy and Tony Caridis have helped Heat and Control continue to press forward exploring opportunities to uplift employees, satisfy customers, and build meaningful partnerships.
Andy Caridis, founder and chairman of Heat and Control, said it was the people that made Heat and Control so successful.
"Our employees, customers and partners are the heartbeat of Heat and Control," said Andy Caridis. "I invested my entire adult life into this company with a hope and a dream. We started with few but now we are many, for that, I am grateful."
Tony Caridis, president of Heat and Control, said the company was looking forward to what the future holds.
"Heat and Control's past with my father paving the way, prepared an outlook for an exciting future," said Tony Caridis.
"We have incredible people in our organisation, customers believe in our abilities, and there is respectful collaboration with our global partners. As the president, I would like to say thank you. Here's to celebrating the next chapter of innovation together!"