Fruit quality holds strong as growers implement several measures to keep their orchards cool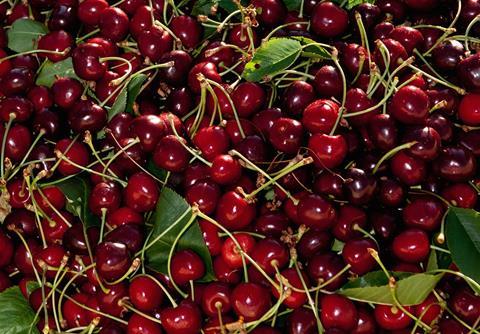 The heat is finally on the US Pacific Northwest cherry crop.
After its lightest start to a harvest since 2008, the industry is now responding to a heatwave.
"The dog days of Summer have finally reached the inland Pacific Northwest," according to an update from industry association Northwest Cherry Growers (NWCG).
"While most of harvest has progressed to cooler and higher elevation sites, the pace increased moderately over the weekend in orchards with fruit that was ready to pick as some growers took advantage of preferable morning and evening temperatures."
Fruit quality had been largely unaffected by the warm weather.
"Our growers have several counter-measures to keep their orchards cool while their fruit continues to mature towards their high quality benchmarks," NWCG said.
"Partly because of growers' temperature-attuned efforts throughout the year, the cherries this season remain remarkably large and dark, with high sugars and fantastic shelf appeal. Thankfully, our industry is anticipating several weeks of promotable volume yet to come."
According to the NWCG update, the industry had packed 9.7m cartons (9kg) as of 25 July. By comparison, 16.7m cartons had been packed at the same point of 2021.
July volumes are tracking on par with the latest forecast.
"It seems clear by now that we will ship near, or slightly above the Round 4 July estimate of 7.5m boxes," NWCG said. "Additional July volume will come at the expense of the projected 2022 August volume of 1.9m boxes and/or the small but measurable volume in September."
The lighter crop is understandably having an impact on exports, with just over 26,000 cartons shipped to the Australian market as of 26 July. Comparatively, 113,559 cartons had been shipped at the same point last season.
NWCG sees the short crop as an opportunity to increase consumer awareness about the health benefits of cherries, particularly in the US domestic market.
"A short crop doesn't reduce the need for continued consumer education about the health benefits of cherries, and in fact, requires more effort on everyone's part to ensure they know the limited window for fresh cherries is upon them," NWCG said.
"With nearly two-thirds of shoppers reporting that the health benefits of cherries impacted (or would impact) their decision to purchase them in every survey we've conducted, even a short season provides opportunities to help make those connections at the shelf."