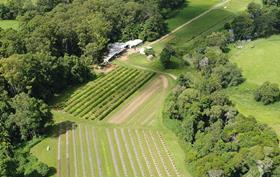 Australian finger lime and macadamia exporters are among those that have benefited from a government grant designed to support post-pandemic recovery.
Green Valley Fingerlimes and Nutworks have each received a share of the Queensland state government'sA$500,000 (US$357,000) Market Diversification and Resilience Grant (MDRG) programme.
Green Valley Fingerlimes, which exports fresh finger limes to Italy, Singapore and Hong Kong and supplies the domestic restaurant market, will use the grant to buy a new blast chiller and freezer room, allowing the business to diversify from fresh only to frozen finger lime products.
Jade King, director of Green Valley Fingerlimes, said this will help the company make the most out of what would have been a difficult season because of Covid-19.
"With funding support from the Queensland Government, we can salvage some product, and also be able to look at selling frozen product into various export and national markets, for the first time," King said.
"We've had to turn away enquiries for frozen fruit because we could only meet fresh market demand, so the freezers will give us the opportunity to break into new markets including Japan and the United States that only accept frozen product.
"Diversifying our business operation through new product lines will make us more resilient to changing circumstances in the future."
Nutworks is set to use its grant for new equipment, e-commerce website development and trade show attendance all of which will allow the business to diversify and meet growing consumer demand for high-end macadamia products in the United Kingdom and Australia.
Kylie Watson, chief executive of Nutworks, said the funding will ensure the impact of Covid-19 does not halt plans to enter new markets.
"The project will build our resilience by diversifying offerings, and ensuring reliable, ongoing turnover, both for our hundred growers and the company," Watson said.
"Project activities will provide job security for our staff in the recovery from Covid-19 and create 35 new jobs within our South-East Queensland business, in areas such as research and development, production and marketing, and along the supply chain."