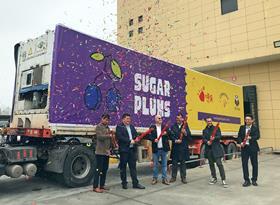 Chinese packer-trader Hi Fruit has officially launched its brand-new packing line at its Jiaxing headquarters in Eastern China.
The company held an official ceremony on 18 March, attended by guests representing close to 100 leading companies across the fresh produce supply chain.
The two-hour event showcased Hi Fruit's leap into the next stage of its fruit packing capabilities.
Established in 2020, Hi Fruit is a joint venture between leading importer-distributor Jiaxing Zhuang'an and UK-based firm Hochfeld International.
The new company aims to vitalise the relatively underdeveloped seedless grape market in China by packing and producing premium grape offerings.
Borrowing Hochfeld's rich experience in table grape packing, Hi Fruit recently imported the UK's Marco packing line to its 4,000m2 packhouse.
Hi Fruit chairman Chen Li said the packing line is designed to weigh, seal and label small-pack fruit, while its control systems monitor and help improve operation productivity over 30 per cent.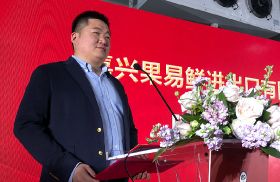 "With its help, we can set the margin of error in weight to as little as one gram, achieving high consistency in every box of our fruit products," said Chen.
With the help of Hochfeld's expertise in the grape category, Hi Fruit is looking to import a range of premium and exclusive varieties into China. It will then implement its high-standard sorting and packing, before supplying to Zhuang'an's clients both online and offline in China.
Other than grapes, seasonal small-size fruit such as longan, lychee, kumquats, sugar plums, and cherries will also be packed in Hi Fruit's facilities to fully utilise the state-of-the-art packing line.
Hi Fruit hopes the year-round production will satisfy its clients' varying demand in categories and packspecifications.
The ceremony concluded with a send-off of a container truck carrying 20 tonnes of grapes and sugar plums packed by Hi Fruit, which will soon be sold at the Jiaxing Haiguangxing wholesale market.
As the packhouse operation moves into full swing, Hi Fruit will have more and more quality fruit to supply its retail clients in Eastern China.