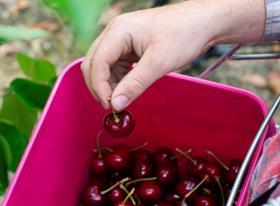 On the eve of a new season, one of New Zealand's leading cherry producers is forecasting a record crop yield.
Central Otago-based Pure Pac expects it will handle approximately 600 tonnes of cherries over the 2019/20 campaign, more than double the 270 tonnes it sent to market between December 2018 and February 2019. Last season's performance was in line with a 40 per cent industry drop due to variable pre-season weather conditions.
New plantings are also playing their part in the production boom, with 60ha of trees across Pure Pac's orchards reaching full maturity this year, and one orchard producing a crop for the first time.
Pure Pac's corporate services manager, Kirsty Allison, said harvesting was set to start on 18 December, weather permitting.
'Central Otago growing conditions have been ideal so far," explained Allison. "As long as this continues, we expect all 12 premium varieties to produce good-sized fruit (up to 34mm) which will be sweet and crunchy - just as consumers expect from New Zealand cherries."
This season will be the third for Pure Pac, which was established by seven experienced cherry growers in the Central Otago region.
Allison said 60 per cent of Pure Pac's fruit will be exported to existing and emerging Asian markets this season. The remainder will be distributed to New Zealand supermarkets and via Pure Pac's online store.
Pure Pac will market its fruit under the Pure Gold and Gold Reserve brands in Taiwan, Hong Kong, China, Malaysia, Thailand, Korea, India, Vietnam and Cambodia.
'We've diversified our markets within Asia and are focusing our efforts there, particularly leading up to Chinese New Year on 25 January when a high demand for premium cherries coincides with our peak production,' Allison said. 'Taiwan is our biggest market and demand is quality driven, not price driven, so we can continue to command a premium price per kg."