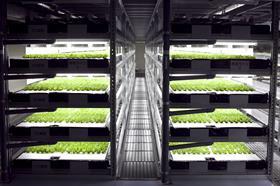 Kyoto-based vertical farm business Spread has partnered with UAE business Madar Farms and Japan's Toyo Engineering to launch in the Middle East.
The Japanese high-tech farm business is constructing a Techno Farm in the arid, water-sparse region that relies heavily on imported vegetables. Spread's systems are almost fully automated, use recycled water and save on energy costs, with the new partnership aiming to supply safe, high quality vegetables to the Middle East. Once the UAE Techno Farm is completed in 2019, it will be capable of producing up to 30,000 lettuce heads a day.
The UAE farm will be the first of around 20 Spread facilities in the works for the Middle East, according to Spread.
Spread operates high-tech farms in Japan, opening the world's largest automated vertical farm in Kizugawa, Japan.