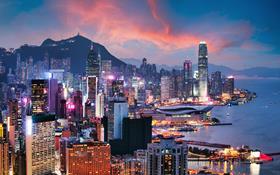 Hong Kong is in the throes of a vegetable shortage after truck drivers who bring produce from mainland China test positive for Covid, report Reuters and the South China Morning Post (SCMP).
Hong Kong's veg supplies have been slashed by two-thirds this week after rising cases of Covid-19 infections among cross-border truckers have caused driver shortages and forced stricter testing requirements, delaying cross-border produce arrivals.
Hong Kong's transport union chief told the SCMP yesterday (7 February) that 40 to 50 trucks, mostly carrying vegetables, were held up at the mainland Chinese border. Price mark-ups and limited supplies of vegetables were being reported across the city as a result.
Today (8 February), shelves stocking vegetables were bare across supermarkets in Hong Kong while crowds surged into fresh markets to snap up the limited produce available, Reuters said. Other food, however, remained available.
'It's like the battlefield,' a staff member from Qiandama vegetable store told Reuters, as people tried to charge in.
Some vegetable and fruit stalls selling mainland Chinese produce were shuttered, while others were selling produce at double their usual prices, the publications said.
Hong Kong residents crowded supermarkets and neighbourhood fresh food markets to stock up on vegetables, noodles and other necessities after a record number of Covid-19 infections were reported in the city.
Today, the Asian financial hub reported a record 625 coronavirus cases, with numbers likely to continue rising rapidly, authorities said. There were 2,600 infections over the past two weeks compared with just two in December.
In response, Hong Kong's leader Carrie lam announced that public gatherings would be limited to two people from four currently, while churches and hair salons would close from Thursday, joining a raft of venues already closed.
One 60-year-old man hunting for vegetables in Hong Kong told Reuters that the authorities should help supply more food as prices had surged. 'The government doesn't do anything, so the vegetable sellers are upping the price,' he said. 'It's really hard to be a Hong Konger.'
On Monday morning, two truck drivers coming from mainland China's Man Kam To control point tested positive for Covid-19, Chan Dik-sau, chairman of the Container Transportation Employees General Union told SCMP. Another two were also reported to be infected on Friday and over the weekend.
As of 6pm on Monday, some 40 to 50 trucks, mostly carrying vegetables, were still stuck at the checkpoint as they waited for the authorities to disinfect a site for handing over goods, Chan said, adding that a number of truckers had been quarantined.