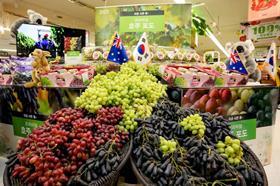 Hort Innovation has received new funding for an export demand creation project set to provide insights into the latest trends in 13 overseas markets.
The Australian federal government awarded the grower-owned research and development corporation an Agricultural Trade and Market Access Cooperation grant worth just over A$2m.
The funding will support an Australian horticulture international demand creation project and deliver targeted research and export plans for 13 markets across 20 product categories of fruit, vegetables, and nuts.
Hort Innovation chief executive Matt Brand said in-depth consumer and competitor intelligence for each individual market will better position the Australian horticultural industry to negotiate with a stronger understanding of usage and attitudes to assist the products we are wanting to sell in these markets.
"We will work with industry reference groups to workshop and co-create market development plans to achieve each industry's trade goals," Brand said.
"The aim is whole-of-industry trade expansion based on diversified risk, premium returns and consumer led-driven strategies."
Minister for agriculture David Littleproud said the grant would help industry identify opportunities and develop trade expansion plans.
"This work will help Australia's fastest growing agricultural sector realise its export potential and take advantage of ongoing negotiations of free trade agreements and efforts to improve market access," Littleproud said.
"Market intelligence has been identified as the number one priority by export-focused industries and will enable growers to deliver exactly what the customer wants – thanks to an in-depth level of information like that gathered by importers and retailers."
The 13 export markets include Japan, Korea, Indonesia, the US, Singapore, Malaysia, UAE, Qatar, Hong Kong, Taiwan, Vietnam, India and the UK.