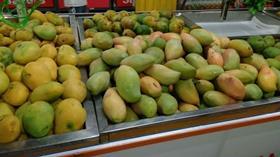 Rajiv Gandhi International Airport could soon provide fruit and vegetable exporters with and expanded perishable cargo terminal following new plans from the airport's owners.
GMR Hyderabad International Airport, which owns and operates Hyderabad's international airport, has met with the Telangana and sought support for its proposed upgrade.
According to a report from the Hindu Business Line, GMR plans to expand its perishable cargo terminal from 5,000ft2 to 25,000ft2 to support fresh fruit and vegetable exports. The upgrade would include the construction of an irradiation facility to facilitate mango exports.
Promoting fresh fruit and vegetable exports has been a recent focus of the Telangana government, which had also backed the construction of a mango processing facility near the airport.
The state's agriculture minister S. Niranjan Reddy said exploratory meetings about the proposed upgrade would now be held with importers, exporters.