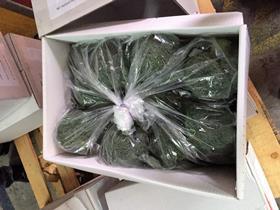 Queensland broccoli producers have been able to export Australian broccoli to Dubai without ice for the first time.
Using Biopac modified atmosphere plastic (Map) Liners and a new carton box from Orora, levels of carbon dioxide can be increased, and oxygen decreased while also controlling the humidity.
Trials by Queensland's Department of Agriculture & Fisheries have shown the broccoli can be stored in this way for more than 40 days, explained Biopac's Antar Douadi, which means seafreight could now be a viable option for broccoli exporters.
Since the success of the iceless airfreight to Dubai, the next destinations being looking into for broccoli exports are Singapore, Taiwan, Hong Kong and Japan.
"The benefits for exporters are huge," Douadi said. "With ice, you pay three tonnes of freight, two of which is broccoli and one tonne of ice. With the Biopac Map bags, you pay for three tonnes of freight and get three tonnes of broccoli.
"Add the savings for the cost of ice and the styrofoam box, and all of those savings make Australian exports much more competitive."