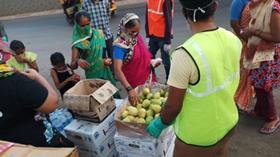 Leading Indian fresh fruit importer, IG International, has teamed up with Stemilt Growers to donate fresh produce cartons, filled with pears and apples, to disadvantaged Indians during Covid-19.
The drive took place in Mumbai over a period of ten days, and is planned to continue during the countrywide lockdown, in order to help those who are starving for food and water.
Chairman of IG, GC Arora, said he felt it was the company's responsibility to provide a helping hand to the people in need.
"The blessings of these people and the love from kids brings in the courage to fight with these tough times," he said.
Asiafruit is now available to read on your phone or tablet via our new app. Download it today via theApp StoreorGoogle Playand receive a two-week free trial along with access to previous editions.