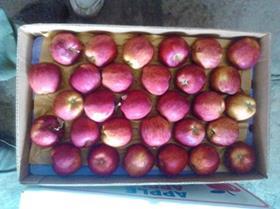 The illegal import of Iranian apples in Delhi's Azadpur fruit market is said to have resumed, according to a report published by Kashmir Reader.
Kashmiri apple traders said apples grown in Iran were being illegally imported and marketed as apples from Afghanistan, a country with which India has a free trade agreement.
Delegations of Kashmir fruit traders' unions met officials in Delhi, wrote letters to Indian politicians Arvind Kejriwal and Nirmala Sitharaman, and issued statements in newspapers in an attempt to raise concern over the illegal imports.
Kashmir Reader reports the traders were assured by officials in Delhi that the illegal import of Iranian apples would be immediately stopped. However, according to the traders, the illegal import resumed two days ago (13 February)
Muhammad Ashraf, a fruit grower from Shopian who has stored five-thousand apple boxes in cold stores, told Kashmir Reader that Kashmiri apple growers are being forced to throw away their stored produce like garbage due to the influx of Iranian apples.
"Everyone in Delhi knows there was a small volume (in Kashmir) last year and this year there was widespread scab disease in apple crop. People stored the produce in hope of better prices later in the year, but we are being robbed of our market by the Iranian apple," he said.
Gopal Das, chief executive of a reputed Delhi based fruit and vegetables firm, called the import of Iranian apple as a direct attack on Kashmiri apple industry.
"At this time there is no Himachal pradesh apple and the import of Iranian apple is heavily affecting the market of Kashmir apple," he said.
Iran struggles with apple surplus
Meanwhile, Press TV reports farmers in Iran are urging the country's government to provide a solution to what is looking like a surplus of up to 1m tonnes of apples.
A senior board member at the Orchard Owners Association of Iran told Press TV there was an immediate need for exports of a bulk of apple surplus from the country. Mojtaba Shadlou said the apples in storage houses will rot unless exported.
"This surplus should be immediately shipped to outside the country, otherwise it will rot and the growers will face losses," Shadlou said.
Press TV reports the surplus of apples in Iran this year is a result of nearly a year of government bans on gatherings and parties that have been meant to contain the spread of the coronavirus pandemic.
The surplus is said to be due to the fact that families tend to spend less on fruit because of lower purchasing power amid the pandemic.