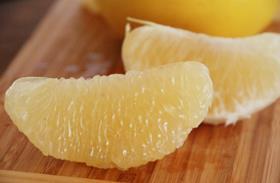 A Florida-based citrus grower-packer-marketer is reintroducing white grapefruit to the US market.
The vast majority of the US' white grapefruit crop is exported directly to Japan, where it remains highly popular as premium import product. However, IMG Citrus is intent on re-establishing a presence for the heirloom variety in its homeland to compliment sales of red grapefruit, which is more commonly known amongst North American consumers.
"When red and white grapefruit are displayed next to each other, they complement each other nicely," says Michel Sallin, president of IMG Citrus. "This type of display is very common with Japanese retailers.
"IMG Citrus is excited to bring white grapefruit back to the US market, providing consumers with more grapefruit variety."
IMG Citrus will sell white grapefruit in the US under its primary consumer brand, Happy Food, which it currently uses to market red grapefruit, juice oranges, lemons, navel oranges, mandarins and tangos.
The brand features happy fruit faces and bright colours, which will help consumers differentiate the newly added variety. Because of white grapefruit's unique flavour, specially developed packaging will also encourage consumers to experience the fruit's 'sweet and tasty' flavour profile.
IMG Citrus is also planning to export white grapefruit to European countries, including the Netherlands, Belgium, and France.
While red grapefruit is primarily grown in Florida, Texas, and California, Florida is the only state in the country where white grapefruit is produced in commercial volume.
IMG Citrus' recent acquisition of Emerald Grove in St Lucie County, renamed the Happy Food Grove, has given it control of approximately 50 per cent of Florida's white grapefruit production.
"White grapefruit gave Florida grapefruit its original popularity, and the addition of white grapefruit to the Happy Food brand will add a welcoming new pop of colour and a Florida legacy of sweetness, juiciness, and flavour to the citrus aisle," IMG Citrus said in a statement.