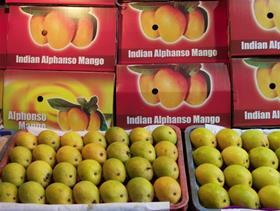 Indian mango exporters have been able to overcome a number of Covid-19 related challenges to ensure this season's fruit reached Japan.
According to a report from the Financial Express, the first shipment of mangoes for the season, of around 3.5 tonnes, was airfreighted to Japan on 22 June.
This shipment was of particular note given the new circumstances created by Covid-19. India has been exporting mangoes to Japan since 2006 under a protocol that mandated a vapour heat treatment process overseen by Japanese inspectors, a requirement not able to be met this year because of Covid-19 travel restrictions.
However, because of the exceptional circumstances the Japanese government permitted India's Directorate of Plant Protection, Quarantine and Storage to oversee the process at the Maharashtra State Agriculture Marketing Board's (MSAMB) vapour heat treatment plant in Vashi.
Sunil Pawar, managing director of MSAMB, told the Financial Express that even with the support of the Japanese government, this first shipment of the season was delayed as there were no international flights.
Asiafruit is now available to read on your phone or tablet via our new app. Download it today via theApp StoreorGoogle Playand receive a two-week free trial along with access to previous editions.