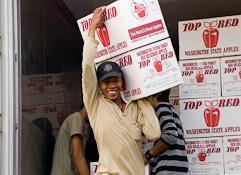 The Indonesian ministry of agriculture has announced it will restrict the volume of fruit being imported into the country to protect the interests of domestic growers and prevent oversupply in the market.
A report by Indonesia Finance Today stated the restrictions would be implemented through pesticide content limits, rather than through tariff barriers.
Ministry of agriculture secretary general Hari Priyono told the newspaper the pesticide content limits would be set in accordance with domestic and international food safety standards.
The country's fruit trade deficit is currently valued at US$600m, reported the newspaper.
This was largely due to lower prices of imported fruit, compared to domestic produce, and better quality imported produce, because of better growing and harvesting techniques, the report stated.
According to the Indonesian Bureau of Statistics the country imported 593,662 tonnes of fruit in 2009. The most imported fruit that year were mandarins at 188,956 tonnes.