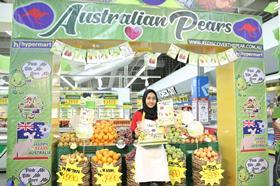 Indonesian fruit consumption has been forecast to more than quadruple by 2050 in a new report from Australian Bureau of Agricultural and Resource Economics and Sciences(ABARES).
Indonesia's per capita consumption of fruit has more than doubled since 1990 and the report predicted consumption will further increase to approximately US$50bn in 2050, a rise of 269 per cent from 2009.
"Higher incomes have played a significant role in changing diets, by giving consumers more discretionary spending," said the report.
"Urbanisation also has had wide-ranging impacts on food demand by increasing the availability of modern food consumption methods, moving consumption away from traditional 'wet' markets to super- and hyper-markets.
"Almost all the expected growth in Indonesia's food market to 2050 is likely to come from non-staple food products, with the largest absolute increases projected for fruit and vegetables."
The report said changing consumer preferences have led to strong demand growth for imported fresh fruits such as apples, berries, citrus, grapes and stonefruit. This trend would provide opportunities for exporters targeting the market, particularly Australia given its close proximity.