Marketing, climate change and supply-demand imbalance in focus on day one of academic programme
Sustainability practices and the need to grow consumer demand were headline themes on the opening day of the academic programme at the 10th World Avocado Congress.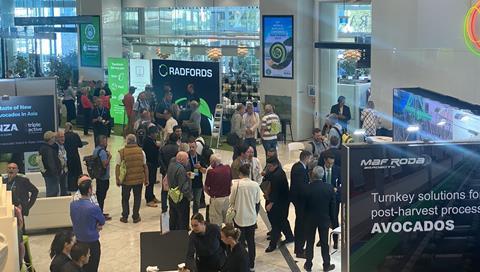 Taking place at Auckland's Aotera Centre today (3 April), the programme covered a wide range of topics across the avocado supply chain.
Keynote speakers Cathy Burns, Brent Clothier and Eric Imbert set the tone for a day of high-quality insights, enjoyed by over 1,110 stakeholders from across the avocado supply chain.
In a wide-ranging presentation looking at the future of fresh produce production and consumption, Burns, chief executive of the International Fresh Produce Association (IFPA), urged attendees to make the most of a golden opportunity around health messaging
"Consumers are more health conscious than ever before, so there's never been a better time to change the trajectory of health messaging around fresh produce," Burns said. "The time is now, don't waste it."
Imbert told delegates about a rapid increase in global avocado production. He said the added volume meant supply was now outpacing consumer demand, suggesting that a situation of "significant oversupply" is highly likely.
Country reports
The growing production footprint was highlighted in a series of country reports, which focused on Latin and North American production.
Peruvian grower Cesar Peschiera Clark said the area under production in his country had grown to 60,091ha in 2022, up from 50, 699hha in 2021 and 31,500ha in 2017.
A forecast presented by Clark puts Peru's Hass exports at 628,500 tonnes in 2023, up 13 per cent from 554,300 tonnes in 2022.
Jeff Oberman, chief executive of the California Avocado Commission, spoke about production and marketing in the US state.
Occupying an 8 per cent share of sales in the US domestic market – the world's largest consumer market for avocados by value and volume – Oberman explained the commission's strategy of marketing fruit year-round.
"We use our growers to tell our marketing stories," Oberman explained. "While our fruit isn't in market for 12-months of the year, we run promotions year-round to keep locally-grown Californian fruit in consumers' minds."
Marketing matters
When it comes to marketing, the Avocados From Mexico brand is leader in the US market. Ana Ambrosi, director of corporate communications and public relations at Avocados From Mexico, told delegates about how the brand has partnered with universities third party certification providers to develop sustainability claims for its fruit.
"You have to back up your statements when it comes to sustainability," Ambrosi explained. "You need to be very scientific with your facts and research, and attribute them to reputable institutions. Creating noise without any weight behind it can be harmful for your brand."
Brier O'Shea, merchandising manager – fruit and imports at leading New Zealand supermarket chain Countdown, delivered a presentation on consumer behaviour in the New Zealand market.
Drawing on Countdown's consumer data and research, O'Shea highlighted the value of a consistent eating experience.
"Consistent ripeness translates to repeat purchases," O'Shea said. "Consumers want a consistent, ripe piece of fruit and the want it now.
O'Shea said a consistent price point was also important.
"Customers want to come back to our stores and know roughly what they will pay (for an avocado) week in and week out," O'Shea said.
The World Avocado Congress' opening ceremony took place on Sunday evening (2 April), following field days on Saturday and Sunday (1-2 April). The academic programme runs until Wednesday (5 April), alongside the event's trade show.