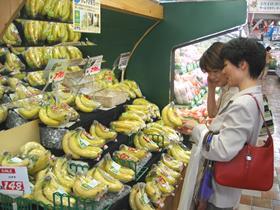 Japan is importing a new variety of banana from the Philippines, bred for its resistance to Panama disease, reports the Manila Times.
Giant Cavendish Tissue-Culture Variant (GCTCV-219 is said to be sweeter and less uniform in shape than the traditional Cavendish variety, which is susceptible to Panama disease.
The new variety has gained acceptance in Japan because of its harvesting time and ripening protocol, and improved packing and branding, Dr Agustin Molina of Bioversity International-Asia and the Pacific Office told the paper.
A small-cluster packaging for GCTCV-219, containing only about four to five fingers per cluster was initiated as a marketing strategy, giving the new variety a good packaging presentation, Molina said.
In addition, GCTCV-219 is now sold as premium Cavendish banana under the Miyabi brand and tagged as "elegant taste banana" or "sweet banana."
The Philippine Fresh Fruits Corporation, owned by Lucianao Puyod, one of the farmer-cooperators of the Bioversity International-led projects supported by the Department of Agriculture-Bureau of Agricultural Research (DA-BAR), led the Japan-GCTCV-219 initiative, the report said.
In 2012, the two institutions embarked on two banana projects to provide Cavendish growers an immediate solution to Fusarium wilt that was threatening to wipe out banana plantations.
Through the projects, GCTCV-219 was introduced to 20 farmer-cooperatives in Davao City, Davao del Norte, Davao del Sur and Compostela Valley, whose farms were totally destroyed by the disease, Manila Times said.
The growers were given more than 30,000 seedlings to trial and many of them have already harvested their crops.
Results of the field trials showed that GCTCV-219 is significantly more resistant to Panama Disease (Fusarium wilt) than the traditional Cavendish Grand Naine, which was totally destroyed by the disease as early as during the primary cropping in most farms. An average of only 1 per cent infection was recorded for GCTCV-219.
Mauro and Sons Farm, Davao, has had a successful production of GCTCV-219, the fruits of which are now sold in Japan as sweet banana through a multinational company. Other growers sell their fruits to other markets, such as China, the report said.
The GCTCV-219 breed is an enhanced selection of another Fusarium wilt-resistant variety, GCTCV-119, developed and shared by the Taiwan Banana.
"For now, the variety gives high hopes for the mitigation of this devastating disease threatening the multi-billion peso banana export, an important source of foreign revenue which provides direct livelihood to more than 320,000 people in Mindanao. More than 3,000 hectares have already been reported to be totally devastated by the disease," Molina said.
While Molina does not recommend GCTCV-219 as an immediate replacement for the current commercial varieties that are not yet affected by the disease and are still economically grown, the GCTCV-219 variety is a very good option in case the disease becomes out of hand and totally destroys a plantation.