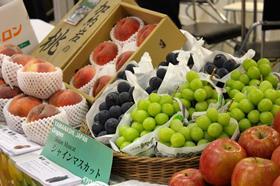 Japan's Ministry of Agriculture will seek to introduce stricter regulations on removing domestically developed fruit in an attempt to protect its well-known varieties.
According to a Jiji Press report, grape varieties such as the Shine Muscat, as well as varieties of strawberries and other fruit are set to be protected by changes made in 2020.
Theministry will submit a revision to the plant variety protection and seed act to the country's parliament in a bid to protect the brand value of its varieties.
The report said the decision to increase protection was made after Japan experienced problems with Shine Muscat grapes.
It was registered as a new variety in 2006 but seedlings reached South Korea and China. This allowed the variety to be grown in those countries and sold for much cheaper than the high-value Japanese products, thus impeding the expansion of exports, sources told Jiji Press.
This result was blamed on deficiencies in the plant variety protection law, which provided domestic protection for the variety but did not anticipate the export of agricultural goods.