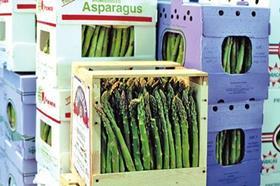 Demand for asparagus in the Japanese market is following a downward curve despite significant price drops in recent years, according to Keita Watari, president and CEO of major Japanese produce importer Watari Co.
The decline includes the increased volume of Japan's domestic asparagus supply, which has simply cut into imports rather than boosting overall consumption, Mr Watari told Fruitnet.com.
"The market or retail price of asparagus, especially Japanese domestic asparagus, has been coming down over the last decade or so, which should promote the demand as a natural result, but that's not the case," he explained.
"Domestic production of asparagus in Japan has been increasing significantly over the last decade, but on the other hand the volume of imported asparagus into Japan has gone down so much.
"The peak of imported asparagus in Japan was about 25,000 tonne in 2001, but it was only about 10,000 tonnes in 2008."
Mr Watari hopes demand will stabilise or even turn around, and said the coming Australian asparagus season, starting over the next few weeks, will serve as a litmus test.
A number of Japanese importers have told Fruitnet.com Japan is expected to import more Australian asparagus this season, partly spurred on by the better exchange rate this year.
"My personal feeling is that Japan can take more volume from Australia than last season if their production is good this year," said Mr Watari. "The popularity of Australian asparagus is the best in Japan for its quality and taste."
Watari will import 50 per cent more of the fat-speared Australian asparagus this year, coming to about 1,000 tonnes.
Japanese domestic production is predicted to grow slightly this year, although reports from the southern growing regions like Kyushu are mixed.
Japan also imports asparagus from Mexico, Thailand, the US, New Zealand, Peru and the Philippines.