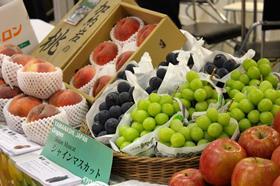 Japan's position as a supplier of premium Shine Muscat table grapes has been eroded as production in other countries has grown.
According to a report from Nikkei Asia, China and Korea have overtaken Japan in production with 1,800ha dedicated to the variety in Korea, 53,000ha in China and only 1,200ha in Japan.
While China's production mostly services domestic demand, Korea has become a major competitor to Japan in export markets.
It surpassed Japan in grape exports by volume in 2019 and in between January and April 2020, Korean grape exports reached approximately ¥800m (US$7.2m), up 50 per cent year-on-year with Shine Muscat accounting for 90 per cent.
The value of Japan's grape exports for the same period in 2020 was only ¥147m (US$1.3m).
Shine Muscat is one of the varieties that has suffered from seeds being taken from Japan and Japan's agricultural ministry has recognised the prevalence of this practice and the effect it was having on the Japanese industry.
It has since introduced new measures to prevent the seeds and saplings of 1,975 varieties of natively developed fruits and vegetables from being taken from the country.