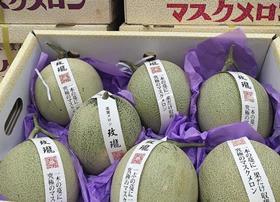 At the first auction of the 2020 Japanese melon season, a pair of melons grown in the city of Yubari, Hokkaido sold for ¥120,000 yen (US$1,100), a dramatic drop from the ¥5m (US$46,645) price acheived at 2019's first auction.
According to a report from Kyodo News, the auction, which is known for fetching incredibly high prices, was held on 25 May at a wholesale market in the province's capital Sapporo.
Prices for a pair of premium melons at the wholesale market have generally gone over ¥1m (US$9,329) in recent years, with the all-time high reached in 2019 and ¥3.2m (US$29,852) paid in 2018.
An official at the wholesale market told Kyodo News that "the result (this year) mirrors the situation of the novel coronavirus pandemic".
The wholesales market has stopped auctions on 20 April because of the coronavirus (Covid-19) pandemic but has opened as a one off to hold this auction in an attempt to promote the sales of Yubari melons.
The successful bidder was a fresh produce wholesaler based in Kushiro, Hokkaido. The wholesaler told Kyodo News it decided to bid in the auction this year to support local growers.