Matsui Seed provides Washington State University with eight varieties to trial in US conditions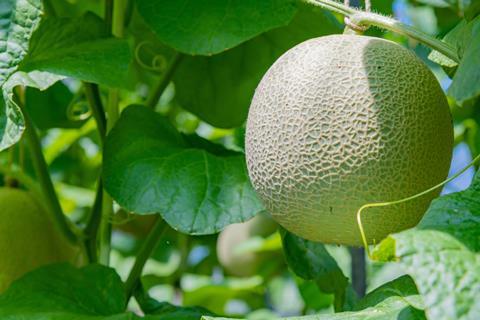 Washington State University (WSU) has partnered with Matsui Seed to conduct trials for eight varieties of Japanese melons in the US.
According to a report from WSU Insider, Matsui Seed president and former WSU graduate Kunihiko Matsui helped initiate the trial which began in 2021.
During his time studying in the US, Matsui noticed the willingness of American consumers to try new fruits which led him to investigate if production of Japanese melons would be viable.
"Washington is very close to the climate of northern Japan, a similar climate," Matsui said. "I know that there are places that are warmer and therefore better to grow, but I didn't have connections in those places like I did in Washington and I wanted to use the connections I had to WSU."
Eight varieties of Higo Green melon are being evaluated for their ability to grow in the US and their sweetness and texture compared to the market-standard variety of cantaloupe.
The trial is being conducted on an approximately 400m² patch during the summer months using seeds provided by Matsui Seed.
Srijana Shrestha is leading the trial and in the first year Matsui's melons took roughly 20 per cent longer to reach maturity than Athena cantaloupes. However, the resulting fruit was rated highest by taste testers for firmness and sweetness. This season the eight varieties of Higo Green melons are being compared to the Infinite Gold variety.
"Matsui wants to test their best varieties for the US because the plants perform very differently in Japan, and so it's a matter of understanding how they grow here and how are they compare to varieties standard to American consumers," said Shrestha.
Matsui was confident that American consumers would take to Japanese melons once they experience them.
"Even though our varieties aren't common commercially in the US, I believe the taste will be accepted in the US. The taste will break through the market," Matsui said.