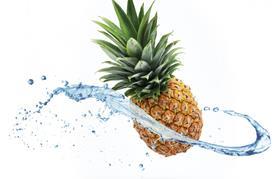 JBT Corporation has upgraded its Sta-Fresh 2952 solution, a pineapple coating that enhances product consistency.
Tested by the Laboratorio de Analisis Ambiental in Costa Rica, the concentrated product was developed especially for packers requiring attractive fresh fruit arrivals after long-haul transport.
"Sta-Fresh 2952 provides the industry's most advanced protection for pineapples by controlling dehydration and delaying color development, resulting in the end-user's desired flavour profile and firm texture," JBT said in a media release.
The updated coating formula uses the samehigh-performance and biodegradable plant-based solution as its predecessor, with improvements stemming from the production process.
The refined process improves product consistency, making the coating easier to mix and apply, while decreasing the possibility of clogging and filling in application systems. It also eliminates the need for foam control in the packhouse.
"Our primary focus continues to be the creation and innovation of unique solutions that enhance product arrivals and value," saidRyan Pereira, division president of JBT Corporation. "We are thrilled to bring the new Sta-Fresh 2952 technology to our customers who can expect the same superior performance they have come to trust from us over time."