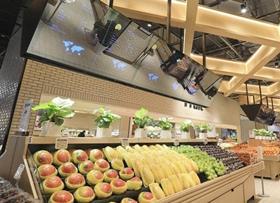 The integration of online and offline shopping continues in China, with JD.com the latest company to venture into the space.
The e-commerce giant has revealed details about its new 7Fresh stores, which it claims will deliver a "truly premium offline food shopping experience" to the People's Republic.
Fitting with an ongoing revolution that sees traditional retail mediums powered by e-commerce technology, 7Fresh stores will integrate several advanced technology elements to deliver a personal and educational shopping experience.
This includes 'magic mirrors', which sense when customers pick up an item of produce and automatically provide information on a screen about its source and nutritional value.
The stores will also feature smart shopping carts that can follow customers as they browse the aisles.
Items can be scanned and bagged through traditional or self-checkouts, with customers residing in the local neighborhood having the choice of taking the goods with them or having them delivered to their homes within 30 minutes.
Stores will also feature a restaurant area, where consumers can choose from a wide range of food cooked on-site.
Xiaosong Wang, CEO of 7Fresh, said the ability to offer such unique shopping services and experiences stems from the company's innovative supply chain and status as a large-scale buyer across many product categories.
"JD is uniquely positioned to bring this premium-quality offline shopping experience to Chinese consumers because of our supply chain technology and scale as the country's largest retailer," said Wang.
"With the highest efficiency and the greatest knowledge of consumer preferences, as well as access to the highest-quality products, we can invest in a premium experience far beyond anything Chinese consumers have experienced before."
Having offered fresh food online since 2012, JD.com launched JD Fresh as an independent fresh food business unit in 2016. JD Fresh currently offers a wide range of fresh fruits, vegetables, seafood, meat and frozen products sourced from over 2,000 partners worldwide.