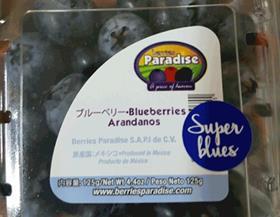 JD.com has wasted no time introducing Chinese consumers to Mexican blueberries.
The e-commerce giant has paired up with leading importer Dalian Yidu, along with industry organisation Aneberries, and Mexican exporter Berries Paradise, to begin selling the fruit.
The move comes after China's General Administration of Quality Supervision, Inspection and Quarantine (AQSIQ) updated its list of fruit approved for imports in early June, with Mexican blueberries one of the new products granted market access.
Berries Paradise is currently the only Mexican blueberry exporter approved to ship the fruit to the Chinese mainland.
The first cargo flight is due to arrive today (16 June) in Shanghai, with preorders already available on JD.com's website. According to JD.com, the consignment is made up of 420 cartons (1.5kg) of the Gran Sofia variety.
By adding Mexico to its supply mix, JD.com said it could now sell blueberries throughout the year, having previously sold blueberries from China, Canada and Chile.