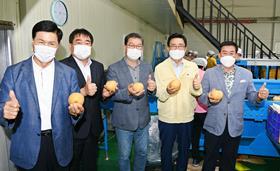 The export season for Korean pears has commenced with the first shipment from Najuon its way to the US.
On 13 August The Naju Pear Horticultural Cooperative held a ceremony to celebrate the 70-tonne shipment of Wonhwang pears, double the volume of the first shipment of 2020.
Located in South Jeolla Province, Najuis one of Korea's major pear growing regions and the Cooperative said it hopes to export 3,200 tonnes this season, which would be a 40 per cent year-on-year increase.
The ceremony was attended by Kim Choon-Jin, president of the Korea Agro-Fisheries & Food Trade Corporation (aT), who encouraged exporters to focus on quality when shipping the US market.
"For the first time this year I am happy that Naju pears are on their way to the US," said Kim. "Please do your best to ensure Korean pears are positioned as premium fruits in the region with strict quality control in accordance with export standards."
Korea exported 23,555 tonnes of pears in 2020. This was down from 20,709 in 2019 and 32,925 in 2018, per Korea Customs Service. In 2020 the US accounted for 9,258 tonnes of exports, meanwhile, 8,829 tonnes were shipped to Taiwan and 2,476 were shipped to Vietnam.
According to a report from the USDA, pear production in Korea is trending downwards as the average age of pear growers increases, growers move to more profitable and less labour-intensive crops and the industry battles with fire blight.