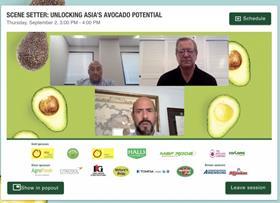 Korea continues to underline its reputation as one of Asia's most exciting growth markets for avocados, according to leading global suppliers speaking at Global Avocado Congress today (2 September).
Korea's avocado imports increased by 61 per cent year-on-year in 2020 to top 13,000 tonnes, and the growth has continued this year, fuelled by a surge in Peruvian imports. Total imports stood at 10,181 tonnes through the end of July, up 77 per cent on the 5,740 tonnes imported during the first seven months of 2020.
While the market slumped in July following record shipments from Peru, the emergence of the Latin American supplier has been a key factor in expanding Korean avocado consumption, according to expert speakers at Global Avocado Congress.
"Korea's been looking for a source of supply that's consistent and can run programmes for the retailers, and that's what we're seeing with Peru," said Tommy Padilla, senior director of export sales for Mission Produce at Global Avocado Congress.
The arrival of Peruvian supply has provided a better alternative to Mexican imports during the summer months, further driving growth, he added.
"Buyers are no longer depending on a piece of Mexican fruit in the summer. We all know the rainy season is in the summer. This leads to spotting issues during the summer in export markets," he said. "Now they can import from Peru during the summer and switch to Mexican supply later in the season when the dry matter is good."
Building the market for pre-ripened fruit will be key to taking consumption in Korea to the next level, Padilla noted. "Currently, buyers just want green fruit. Until we can educate them on how to ripen, we're going to hit a ceiling on consumption. There's not much conditioning of fruit right now. But the sky's the limit if we can get these people to eat ripe fruit."
Jose Antonio Gomez, managing director of Camposol International, said the Korean market is growing steadily, and that developing retail sales of avocados is also key to speeding development.
"I would say Korea is somewhere between Japan and China in terms of channel development. China is more wholesale-focused, where Japan is more retail-oriented. Korea is in the middle," said Gomez.
"Once you have the supply chain moving fruit through retail, you get a bit more control; you can present fruit when it's ready and get more appreciation from consumers."
"Korea is getting there, and I think it's going to develop faster than China and grow towards Japanese consumption levels. Right now, Korea is 10 per cent of Japan's consumption but I have no doubt Korea could reach half the volumes of Japan, which are around 70-80,000 tonnes currently."