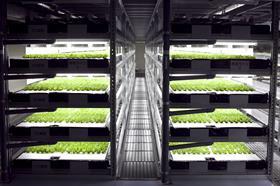 Kyoto-based Spread has announced it will be opening the world's largest automated vertical farm in Kizugawa, Japan.
Called Techno Farm Keihanna, the farm will produce 30,000 heads, or three tonnes, of lettuce each day once it's fully operational by the beginning of 2018.
Techno Far Keihanna builds on Spread's established indoor vertical farm, Kameoka Plant, which was built in 2007 and produces 21,000 heads, or two tonnes, of lettuce each day, all sold under the Vegetus brand.
At the new factory, the company will use automated cultivation to reduce labour costs by 50 per cent compared to the Kameoka Plant, and improve the recycling rate of water used for cultivation by 98 per cent. Using LED lighting developed by Spread itself, the company can reduces energy consumption by 30 per cent compared to existing LED lighting.
Spread aims to grow its share of the Japanese lettuce market to 10 per cent through expanding its production and establishing 20 facilities under a franchise model.