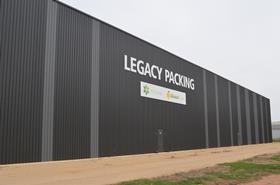 Legacy Packing continues to go from strength-to-strength, with the Australian citrus grower, packer and exporter's general manager, Dean Trembath, reporting exponential growth since establishing in 2017.
Based in the Victorian town of Cobram, the business is owned by Agriculture Capital (AC), a US-based investor in permanent cropland and midstream food processing asset.
The company's state-of-the-art packing shed is custom designed to pack and distribute fruit all over the world. To date, Legacy Packing has exported Australian-grown citrus and stonefruit to the UAE, India, China, Indonesia, New Zealand and the US, with even more on the horizon, according to Trembath.
"Establishing new markets is a key part of supporting our growers and in turn assisting in our industry's growth," he said.
"We adhere to the highest food safety standards here in Australia and we strive to operate under our continuous improvement practices to ensure our fruit is fresh, delivered on time and in perfect condition.
Citrus currently packed at Legacy Packing include oranges, lemons, mandarins and Sumo Citrus. It's a category AC sees potential for greater investment in, according to Trembath.
"AC investments in Australia are solely focused on citrus," he noted. "By the end of 2021 we will have 650ha of citrus planted, including Sumo Citrus, with the Glens Hill property in Barooga, New South Wales to be fully planted by the end of the year."
As AC continues to search for opportunities, Trembath believes Sumo Citrus holds an exciting future.
"Our focus is on continuing to develop international markets for Sumo," he told Fruitnet. "But we also want to build our Suntreat brand commitments with key customers in the domestic and export market.
"We grow our Sumo Citrus here, as well as in the US. Our current export customers are the US, China, Malaysia, Vietnam, Indonesia and New Zealand, with goals to grow that even further."