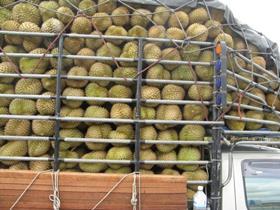 Thailand's Department of Agriculture (DoA) has warned the country's durian exporters to avoid transporting their fruit through the Youyi Guan border crossing in China because it is clogged up with traffic due to Covid-19 surveillance procedures.
Bangkok Post reports the congestion at the border had created a tailback stretching many kilometres and involving up to 700 vehicles.
'In some cases, the vehicles took 2-3 days, rather than 2-3 hours, to pass through the checkpoint,' read the report.
DoA director-general Pichet Wiriyaphaha said the bottleneck of traffic is a common issue every year during the peak export season.
'It is particularly bad during the International Workers' Day period between May 1 and 5,' noted Wiriyaphaha.
'The DoA, therefore, suggests durian exporters switch to other border checkpoints or transport their goods by boat instead, to keep the fruit from spoiling during the long wait.'
This reccomendation comes only days after China announced it would open new border gates to accomodate the increase in durian exports. Thai fruit can now be taken across at the Mohan, Dongxing and Pingxiang railway borders.
Dongxing, in Fangchenggang City, Guangxi Zhuang Autonomous Region, can reportedly handle at least 2,000 goods vehicles a day.
Thai fruit exporters were granted permission to use that border crossing on 29 April.
The Pingxiang border meanwhile is located in Pingxiang City of Guangxi Zhuang. It is the only border that opens for fruit trade via rail through the Dong Dang railway station in Vietnam.