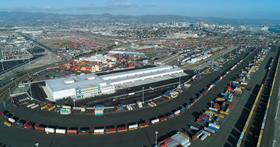 Lineage Logistics announced it has acquired fellow cold chain solutions provider, Emergent Cold, adding 46 facilities in the United States, Australia, New Zealand, Vietnam and Sri Lanka.
The acquisition strengthens Lineage's port presence in the US and signifies its entry into the Australian, New Zealand, and Sri Lankan temperature-controlled logistics markets, expanding its existing presence in the Asia-Pacific region.
Greg Lehmkuhl, president and chief executive officer of Lineage, said this development will support the company's commitment to offering a truly global service.
"Food producers, manufacturers and retailers are looking for cold chain partners who can offer a dynamic and truly end-to-end temperature-controlled logistics solution, and one that can reach every corner of the world," said Lehmkuhl.
"Welcoming Emergent to the Lineage family not only adds significant capacity to our international footprint, but also deepens our commitment to our port strategy and international trade," he adds.
"We are better able to help customers respond to constantly shifting market dynamics, such as global network optimization, tariff impacts, consumer preference shifts, and much more, while at the same time unlocking new potential market opportunities to sell their goods."
Following the acquisition, Lineage will feature over 1.7bn ft of temperature-controlled capacity across 260 facilities in 10 countries, with a global footprint that includes North America, Europe, Asia, Australia and New Zealand.
Neal Rider, founder and chief executive officer of Emergent, said joining Lineage will provide a boost for its customers.
"Joining Lineage accelerates our goal of providing the highest quality global cold chain solutions to our customers," Rider said.
"Lineage has established itself as a leader in our industry and expanding its global footprint and port presence with the addition of Emergent will create incredible opportunities for our collective customers."