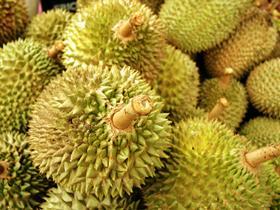 Malaysia's durian industry is feeling the pressure of the country's second lockdown with local demand for the fruit plummeting.
According to a report from AFP, growers have become more reliant on exports with domestic customers stuck at home under Malaysia's movement control order (MCO).
The MCO was re-imposed in January and has continued into February. The report said while demand for durians in Malaysia had remained stable during the first MCO, this time around things were different.
'Compared to last year, the local sales are not as good,' Eric Chan, a trader and managing director of Dulai Fruits Enterprise, told AFP.
Tan Sue Sian, managing director of Top Fruits, said many growers had turned to China where Covid-19 is more contained and there is a strong appetite for the fruit.
'If there are no exports, or when there is no stock for the export, I think (such a scenario) will collapse the whole industry,' said Tan.