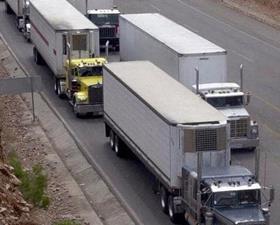 A three-day nationwide strike by truckers protesting against increasing petrol prices and shrinking profits for the transport industry has left Chile's fresh fruit export industry in the lurch. Although the strike was finally resolved last Friday (6 June), a significant number of fruit container shipments has been delayed at both the Port of Valparaiso and the Port of San Antonio.

'Each day this strike goes on, Chile's fruit exporters are losing US$30m (€19.4m),' said Ronald Bown, president of Chile's Fresh Fruit Exporters Association Asoex, before the settlement was reached. 'There are now at least 1,000 containers in the port of San Antonio that we have not been able to ship out. This greatly impacts our contractual agreements with fresh fruit receivers around the world and damages the image of our country.'
The strikers were successful in reducing shipments of goods throughout Chile, leading to shortages at supermarket shortages and petrol stations. This pushed the government to negotiate a deal favourable to the truckers at the end of the third day of the strike, agreeeing to reduce fuel taxes by 85 per cent.
Further complicating matters for Chile's fresh fruit industry, however, is a parallel strike by stevedores at the Port of San Antonio, where some fruit remains unshipped since 30 May. Industry sources told Eurofruit Magazine that the port has been handling mostly apples and pears, and that these fruits are now being transferred to Valparaiso for shipment.

Fuel prices in Chile have risen dramatically in recent months, with several studies suggesting that Chileans now pay the fourth-highest amount in the world for petrol and diesel fuel.