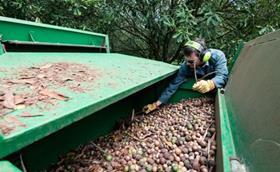 Australia's macadamia crop is predicted to reach 50,770 tonnes in-shell at 3.5 per cent moisture (54,440 tonnes in-shell at 10 per cent moisture) over the 2021 season.
New forecasts were produced using scientific modelling developed by the Queensland Department of Agriculture and Fisheries and funded by Hort Innovation.
Jolyon Burnett, chief executive of the Australian Macadamia Society, said this season's growing conditions have been more favourable than the ones that produced a 2020 crop of a crop of 46,900 tonnes in-shell at 3.5 per cent moisture. Although there are some variances from region to region.
"Some farms are still being affected by dry conditions, but others are performing well," said Burnett.
"Large growing regions, like the Northern Rivers, have experienced good rainfall over the season, and overall, nut size is bigger in most regions, although thicker shells are likely to reduce kernel recoveries."
Burnett said in the largest producing region of Bundaberg, some varieties have experienced poor nut set compared to 2020.
"This is likely to be offset by young trees coming into production in the Bundaberg and surrounding regions," he added.
The model-based forecast is an early estimate and will be further refined as the harvest gets underway in the coming weeks and months. A mid-season crop report will be provided in May/June 2021.