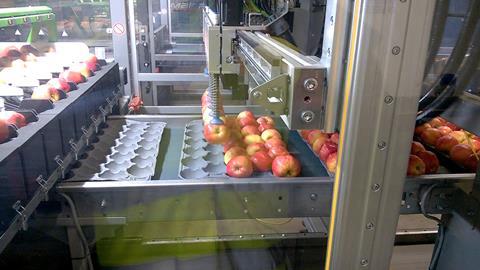 Red Rich Fruits has invested in cutting edge grading technology from leading post-harvest equipment manufacturer Maf Roda for its new Coldstream packhouse.
The centrepiece of the facility's apple grading line is Maf Roda's Global Scan 7 (G7) external quality sorting system.
"The G7 increases our number of wavelengths analysed from two (RGB & IR) to five (RGB, IR1, IR2, IR3 and UV)," explained Phil Alexander, sales director of Maf Oceania, Maf Roda's Australian-based subsidiary.
"In addition, the processing capability has been increased dramatically to do something with all this information. The result is a very robust and simple to use blemish system that is very accurate."
Red Rich Fruits also opted for Maf Roda's patented IDD4 internal defect system. Frédéric Scellier, technical sales manager of Maf Oceania, said IDD4 is drawing praise from the company's global customer base, thanks to the ease of efficiency it provides.
"Our clients are loving the fact that they can have internal defect sorting without endless calibrations and modelling," explained Scellier.
Maf Oceania is now set to roll-out the company's new 'pick and place' apple packing machines, Line Pack and Fastpack.
"They are two quite different systems depending on the application," said Scellier. "They're currently being launched globally, including here in Australia. We're sure they'll be in high demand among apple packaging companies looking for an edge."
The Red Rich Fruits installation came at a busy time for Maf Oceania, which also handled large-scale installations for citrus, mango and apple packers in Queensland and West Australia over the last 12 months.
The company is also responding to strong demand for its new technology to be retro-fitted to existing packing lines.
"This is generally driven by the need to increase technology at the lowest capital cost," noted Alexander. "In the case of internal defect sorting (with IDD4), it has been driven by supply chain compliance.
"In most commodities, our blemish systems are considered as the benchmark in performance and renowned as the simplest systems to operate. Our IDD4 system is essentially a plug and play system; once it is set up by our technician at installation there are no further calibrations required."
To help support its growing network of customers, Maf Oceania has made a considerable investment in boosting its service footprint within Australia. This includes the recruitment of more technicians and automation staff.
"We have doubled the number of personnel in our service department over the last 12 months," said Alexander. "To supplement this we are investing in additional service agents in strategic regions to decrease service callout response times. I'm sure this will become more and more noticeable over the next few months."