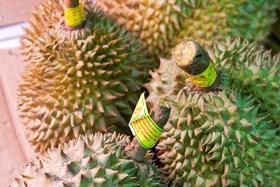 Malaysian-grown tropical fruits are taking centre stage at retail stores across Scandinavia for the second straight year, according to the New Straits Times.
The Asian nation's Agriculture Representative Office in The Hague (PPP The Hague), Netherlands,has extended it marketing activity in the Northern European region, which will see products such as mangoes, durian and jackfruit promoted across stores owned by Swedish retail group ICA AB.
The campaign kicked off last week, following on from the success of similar promotional activity last year, which helped propel the value of Malaysian agricultural exports to Sweden to RM9,899,050 (US$2.4m), up from RM7,067,625 (US$1.7m) in 2014.
"This proves that the Swedes have become more inclined towards Malaysian agriculture products, which has a certain uniqueness and quality to it when compared to similar offerings from neighbouring countries," Mohammad Wafiuddin Esa, Malaysia's second secretary of Agriculture, told the New Straits Times.
The promotion is being coordinated by PPP The Hague, ICA AB, DRS Trading and EMA'S International AS.