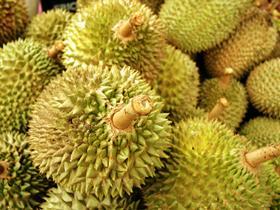 Malaysia's Federal Agricultural Marketing Authority, Fama, has announced it expects this season's durian yield will be lower than normal, with under 300,000 tonnes of fruit tipped to be harvested.
New Straits Times reports this is due to a combination of factors, namely Malaysia experiencing high volumes of rainfall combined with a reduced labour force, due to restrictions in place to curb the spread of Covid-19.
In a joint statement with leading e-commerce platform in South East Asia, Shopee, Fama said roadside stalls and the banning of communal activities such as testing the fruit would likely pose some challenges to the industry.
Despite these challenges, Fama remains optimistic for the year ahead for Malaysia's durian industry.
'Most durian sellers foresee demand to remain strong domestically and internationally especially from the Singaporean and Chinese markets with China's economy beginning to recover,' Fama said in a statement.
'Malaysians may not be able to enjoy it by the roadside this year, but consumption will remain strong in line with their love for durian."
Fama has also encouraged producers to embrace e-commerce as a way to boost their sales during this period. Shopee has found Malaysian durian retailers have been unperturbed by the disruptions and are in fact progressive in their approach to e-commerce.
It noted a new and interesting trend as its platform had organically attracted durian farmers from across the country as they bring their offerings of D24, Musang King, XO, Hor Lor, Udang Merah and more online.
'Many farmers have taken a creative approach with their own campaigns like Duduk Rumah, Makan Durian in order to stay relevant. Covid-19 has seen to be impacting businesses adversely in many ways beyond just sales,' Shopee noted.
Shan Cheng Durian is one grower that has had to change its approach this year. While in previous years it would take tourists to its 12-acre farm in Balik Pulau, Penang, the pandemic has put an end to that.
Instead, they've been looking for new ways to sell the fruit and maintain freshness.
'There are many things to consider when going online. Freshness of the durian is one of them,' Leow E Shuen, co-founder and business manager of Shan Cheng Durian, told New Straits Times.
'To ensure that our customers receive the best quality, we collect the durians from the farm in the morning, open and repack into boxes and vacuum pack them before it goes out for delivery on the same day. With so many sellers online competing for sales, it boils down to quality, service and price to win the crowd," he added.
Shopee also noted durian has become one of the most searched terms on its platform in recent times, signifying consumers' interest as the season kicks off.
In a bid to help the durian sellers sustain their incomes and give Malaysians their durian fix, Shopee will be featuring 500 durian and fruit sellers in its 6.6 Super Sale until 6 June.
Asiafruit is now available to read on your phone or tablet via our new app. Download it today via theApp StoreorGoogle Playand receive a two-week free trial along with access to previous editions.