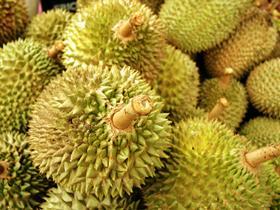 Malaysia's Federal Agricultural Marketing Authority (FAMA) has said there won't be an oversupply of durians from Penang this year as the season reaches its peak.
According to a report from Bernama, Mohamad Mustahapa Awang, FAMA's deputy director-general (Operations), said the authority had initiated a number of measures to assist the industry sell its fruit domestically and in export markets.
Malaysia is currently under a Movement Control Order (MCO) as it manages an outbreak of Covid-19. In 2020, Malaysia's first MCO hampered the ability of the country's durian industry to sell its product leading to oversupply issues.
"From our observation, the current durian output in Balik Pulau is increasing and expected to reach its peak at the end of this month and the season to end in early August," said Awang.
"In Penang, the durian orchards are concentrated in Balik Pulau, covering 2,538ha and the expected output this year is 8,212 tonnes, with the popular varieties being the Udang Merah, Hor Lo, Musang King and Duri Hitam."
Awang said FAMA's efforts included providing controlled fresh markets for the fruit and marketing services at the agency's 984 outlets across the country for direct selling of durian.
The fruit is also available online through Agrobazaar.com, Shopee and FAMA fruit collection centres.
"Our monitoring at the orchard and wholesale levels has found no durian glut currently but perhaps even insufficient supply in the market as many people have been waiting for durians from Balik Pulau," said Awang.